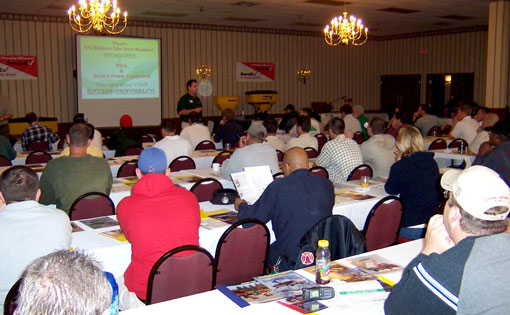 A FEW OF OUR MANY SATISFIED EQUIPMENT DEALERS
Take a few minutes and call these dealers to see how our presentations really do work! They are a win win for everyone involved!
Why offer a Profits Unlimited Seminar?
It will help you increase ATTENDANCE, LOYALTY & SALES to your dealership & products this year. I guarantee your commercial customers will appreciate it and gain a vast amount of useful and practical working knowledge of the industry that will help them earn more money and be more PROFITABLE! I have a direct connection with the industry because I do what they do on a daily basis. I am a "Lawn Guy" just like them. I let them understand right away that I am "one of them." I am not the expert from afar." I am a lawn guy with 38 plus years of industry experiences, knowledge and techniques to share with them.
We have experience in the United States and Canada working with groups of contractors since 1990. We can benefit any size company with any number of years of experience. No matter the size or age of the company, we receive positive feedback from the information and the event put on. Countless dealers have brought us back to put on seminars annually.
Dear Wayne,
Just wanted to let you know how impressed we were with your seminar last week. We had never done anything like this so we were a little apprehensive aboutwhat would happen and what kind of feedback we would get from our customers. Well, all that worrying was for nothing. We were overwhelmed with the responsethat we got from everyone that attended. Not only did they let us know how impressed they were after the seminar was over, but they were still talking about it to us and theirfriends. It was a very educational and informative seminar for everyone. You and Corky were AWESOME in how you presented your material. We were very pleased with the number of attendees. Several were new to us and had heard about this seminar from some of our regular customers. Thanks again for a great presentation. We look forward to having you back in the near future!
Sincerely,
Dee Hampton
Boones Creek Outdoor Power