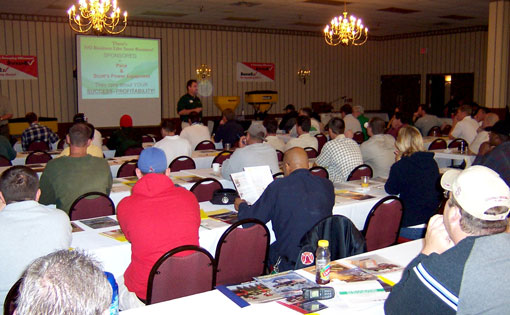 A FEW OF OUR MANY SATISFIED EQUIPMENT DEALERS
German-Bliss Equipment – Peoria & Springfield, IL – Greg (309) 385-4316
Boones Outdoor Power – Gray, TN – Dee Hampton (423) 477-8920
Heinold & Feller Lawn Equipment – Valparaiso, IN – Joe Feller (219) 462-5191
Martin's Outdoor Power – Geneva, NY – Jason Martin (315) 781-8440
Scotty's Lawn Equipment – Evansville, IN – Rick Knapp (812) 867-6978
PACE Distributing – Plymouth, MI – Chris Saxton (800) 686-3128
Weaver Turf Power – Willow Street, PA – Darryl Weaver (717) 464-2931
Williams Farm & Garden – Newbern, NC – Gordy Barnes (252) 638-1983
Pro Mower & Snow Equipment – Warren, MI – Mike (586) 754-7009
Take a few minutes and call these dealers to see how our presentations really do work! They are a win win for everyone involved!
Why offer a Profits Unlimited Seminar?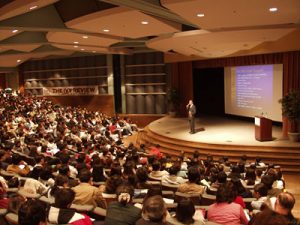 It will help you increase ATTENDANCE, LOYALTY & SALES to your dealership & products this year. I guarantee your commercial customers will appreciate it and gain a vast amount of useful and practical working knowledge of the industry that will help them earn more money and be more PROFITABLE! I have a direct connection with the industry because I do what they do on a daily basis. I am a "Lawn Guy" just like them. I let them understand right away that I am "one of them." I am not the expert from afar." I am a lawn guy with 35 plus years of industry experiences, knowledge and techniques to share with them.
We have experience in the United States and Canada working with groups of contractors since 1990. We can benefit any size company with any number of years of experience. No matter the size or age of the company, we receive positive feedback from the information and the event put on. Countless dealers have brought us back to put on seminars annually.
Dear Wayne,
Thank you so much for an incredibly informative, compact and entertaining seminar on "Knowing why You Charge What You Charge". We came to the seminar hoping to get one or two bits of information that could help our business. What we left with was and entire tool box full of tips, experiences and crucial knowledge that has changed the way we do business now. We are looking forward to the next opportunity we have to attend one of your seminars.
Sincerely,
Patrice C. Osbourne
Chief Excogitation Officer
Eylon Landscape Management, LLC
What Everyone's Saying
Marion Bolick, CGM
PGMS Southeast Regional Director
Wayne Volz spoke at a Southern Snow Summit that the Professional Grounds Management Society North Carolina Branch held at Duke University. He spoke on "Choosing The Right Ice Melter". He provided excellent information and it was presented in a manner that was clear, concise and understandable. He is very knowledgeable in snow and ice management and I would recommend him highly as a speaker.
Marion Bolick, CGM
PGMS Southeast Regional Director
Mitchelle, Ontario
Dave's Landscaping
I've been in business 14 years and have six employees and I learned a lot of stuff!
St. Mary's, Ontario
EMA Gardening Service
This is Excellent information. I learned the value of knowing my business numbers and costs.
Mt. Brydges, Ontario
Pinewood Hort. Services
I've been in business 11 years and this seminar was excellent
London, Ontario
Property Care
This seminar was great. Have anther one in the future. This helped me with Confidence in what I am doing.
London, Ontario
Artistic Touch Landscaping
This was excellent. I've been in business 12 years and picked up several subjects that related directly to my business.
Fullarton, Ontario
Daves Lawn & Landscape
I've been in business 14 years and this seminar is excellent. I learned a LOT! This information is useful, relevant and can be directly applied to my business
St. Thomas, Ontario
Beamish Landscape
This was excellent. You are the Dr. Phil of Snow & ICE. Hoo Rah!
The Gardener
This information is excellent, understandable and can be directly applied to my business. I've been in business 20 plus years and seen a lot.
Green Acres Landscape
I've been in business 10 years and have 18 full-time employees. This information is understandable and can be directly applied to my business. Thanks!
Debra Holds
Michigan Nursery and Landscape Association
Wayne,
Wanted to share this with you…
Congratulations on another fine tradeshow! I just wanted to tell you that I have been attending these things for years and have often enjoyed the seminars, but some years there have been some dogs. However, I was very impressed with the Wayne Volz presentation. He was a very good speaker who provided a lot of substantial, useable information during his presentation. Sometimes the speaker is just giving us a commercial presentation so we will buy their products, or may have a good product but not be a good speaker. Wayne manages to keep your attention, generate conversation and give you some useful ideas which leave you wanting to buy his product in the end.
Anyway, I did not fill out an evaluation form so I wanted you to know someone did a good job picking this speaker.
Gail Mason
Dee Hampton
Boones Creek Outdoor Power
Dear Wayne,
Just wanted to let you know how impressed we were with your seminar last week. We had never done anything like this so we were a little apprehensive aboutwhat would happen and what kind of feedback we would get from our customers. Well, all that worrying was for nothing. We were overwhelmed with the responsethat we got from everyone that attended. Not only did they let us know how impressed they were after the seminar was over, but they were still talking about it to us and theirfriends. It was a very educational and informative seminar for everyone. You and Corky were AWESOME in how you presented your material.
We were very pleased with the number of attendees. Several were new to us and had heard about this seminar from some of our regular customers.
Thanks again for a great presentation.
We look forward to having you back in the near future!
Thanks,
Dee Hampton
Ann Bates
Idaho Nursery & Landscape Association
Dear Wayne,
Thank you for the information you provided our membersat the Idaho Horticulture Seminar. We have received numerouscomments about the value of the presentations. Many of theattendees addressed specific comments to the merits of yourinformation on the cost recovery process and the customerservice ideas provided.
Sometimes the greatest value is in learning how to implementwhat you think you know – and having someone show you theimportance of doing that in a way that is both interestingand practical. You certainly accomplished that for our group.
Sincerely,
Ann Bates
Tom Stannard
Wellington Implement
Dear Wayne:
I wanted to thank you for putting on such a GREAT seminar at our dealership. We have historically been an agriculture equipment dealer in a rural area. Over the past ten years, urban sprawl has reached our area and we are slowly earning new customers who use our equipment in their businesses. Your mailers promoting your seminar worked great as over half of the attendees had never been through our doors.
After the seminar, we received extremely positive feedback from both new faces and existing customers. I spoke to one attendee a few weeks after the seminar. He had purchased your book on calculating operating costs. He felt it was money well spent and he now had a true handle on what it costs him to do business. He is ready for better profits this year!
Probably the most unexpected response from attendees was the appreciation for our hosting of a seminar that benefited them rather than just trying to sell them equipment.I think the equipment sells will come. Your seminar gave us an in-road to a lot of potential customers that we would have not had access to otherwise.
Sincerely,
Tom Stannard